Daishinku Group Environmental Activities
Environment Philosophy
● Social responsibility
 The DAISHINKU Group contributes to creating a progressively developing society through environmental conservation activities which are harmonious with the environment.
● Compliance to legal and regulatory requirements
 The DAISHINKU Group observes statutes and regulatory requirements and is engaged in the development of environmentally friendly products.
Environmental Policy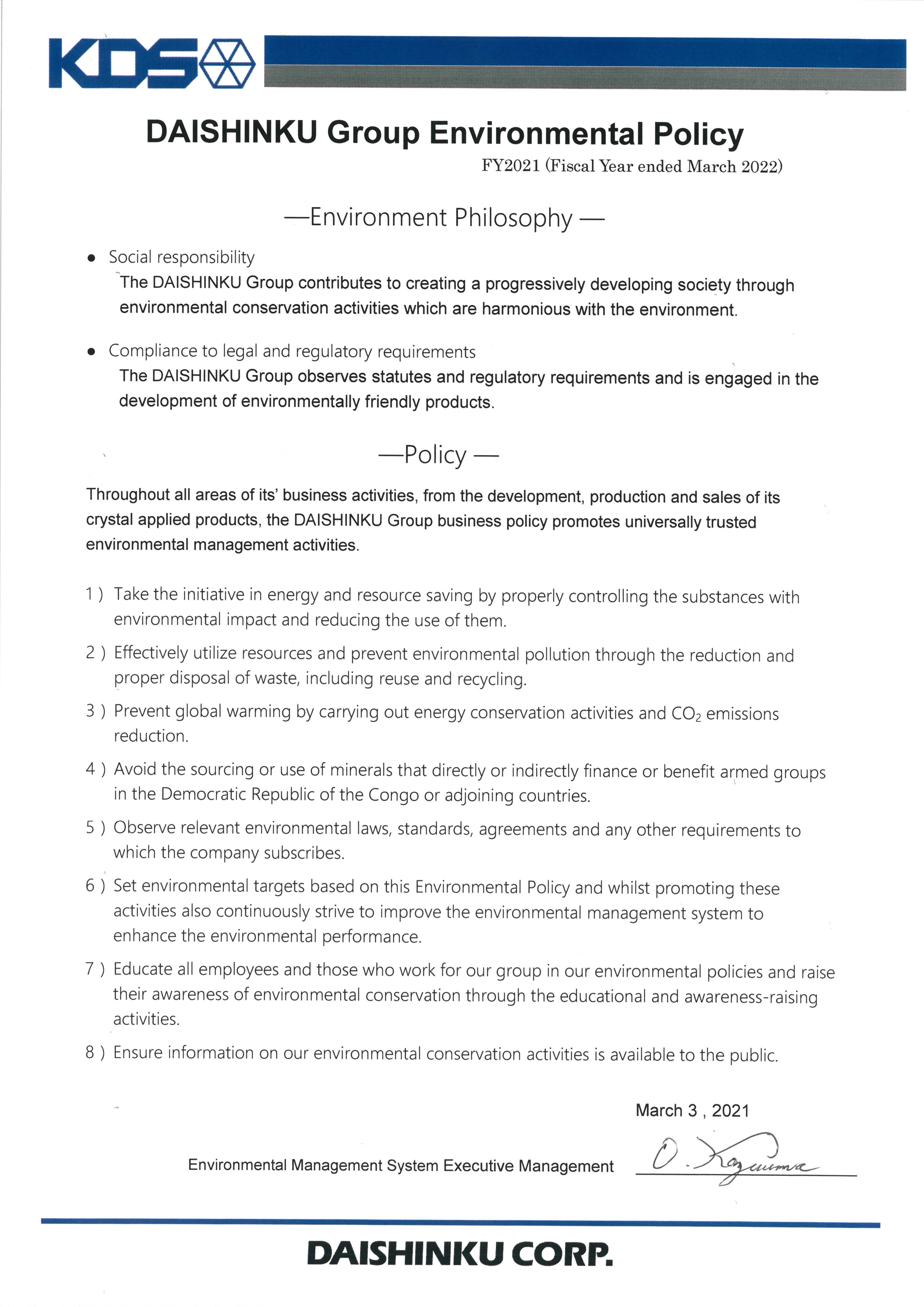 Throughout all areas of its business activities, from the development, production and sales of its products, the Daishinku Group business policy promotes universally trusted environmental management activities.
The Daishinku Group will:
Take the initiative in energy and resource saving by properly controlling the substances with environmental impact and reducing the use of them.
Effectively utilize resources and prevent environmental pollution through the reduction and proper disposal of waste, including reuse and recycling.
Prevent global warming by carrying out energy conservation activities and CO2 emissions reduction.
Avoid the sourcing or use of minerals that directly or indirectly finance or benefit armed groups in the Democratic Republic of the Congo or adjoining countries.
Observe relevant environmental laws, standards, agreements and any other requirements to which the company subscribes.
Set environmental targets based on this Environmental Policy and whilst promoting these activities also continuously strive to improve the environmental management system to enhance the environmental performance.
Educate all employees and those who work for our group in our environmental policies and raise their awareness of environmental conservation through the educational and awareness-raising activities.
Ensure information on our environmental conservation activities is available to the public.
Environmental Report 2013-2014
【Page Title】

Contents/ Company Profile/ Message from the President
Environmental Management System
Environmental Performance
Environmental Considerations Relating to Product
Environmental Impact
Communication

*The content of the environmental report is described in the CSR report from the 2015-2016 version.
Back Number